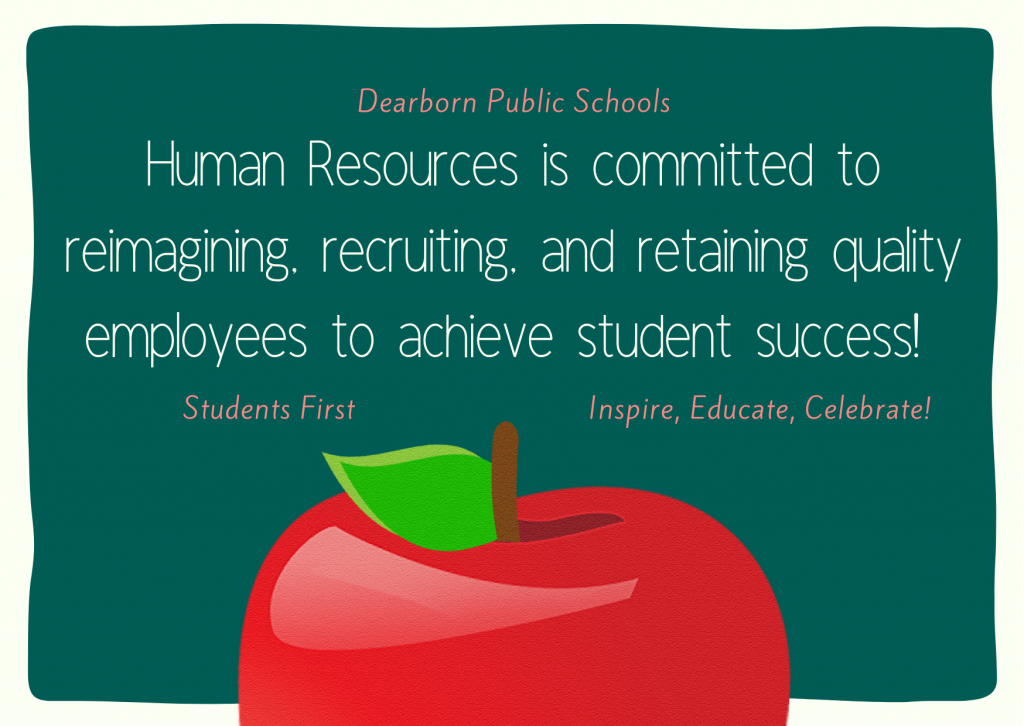 "In a Professional Learning Community educators create an environment that fosters mutual cooperation, emotional support, and personal growth as they work together to achieve what they cannot accomplish alone." Dufour, Dufour, & Eaker.
Interested in Working for Dearborn Schools? Visit Our Employment Application Page by

Clicking Here.
Interested in Substitute Teaching? Please click here to apply to EduStaff.
The Dearborn Public School's Human Resources Department is here to help! Click here for a more detailed list of job duties that are divided between department employees listed below. Please attempt to read the list of responsibilities which will assist you with who you will need to contact.
Main Line 313-827-3002
Non-Instruction Job Hotline 313-827-3002
Fax 313-827-3134
Administration
Maysam Alie-Bazzi
Executive Director of Staff and Student Services
827-3068
aliem@dearbornschools.org
Teacher/Admin Evaluations
Nada Alamaddine
Director – Non-Instructional
(DFSE, DSOEA, Childcare, Noon Hour Supervisors, All Substitutes)
827-3070
alamadn@dearbornschools.org
Hiring, Employee Discipline, Non-Instructional FMLA, Leaves, Labor Relations
Courtney Pletzke
Interim Director – Instructional
(DFT,ADSA, Exempt)
827-3069
pletzkc@dearbornschools.org
Hiring, Employee Discipline, Instructional FMLA, Leaves, Workers Compensation, Labor Relations
Sarah Cornett
HR Office Manager
827-3068
cornets@dearbornschools.org
Administrative Assistant to Executive Director and Director-Instructional
Nicole Beckham
HR Compliance Manager
827-7868
beckhan@dearbornschools.org
FMLA, CHRISS, Leaves, Certificate Renewals
Marisol Quesada
Special Projects Manager
827-7879
quesadm@dearbornschools.org
Unemployment
Support Staff
Hala Dakroub
HR Generalist
827-3070
dakrouh1@dearbornschools.org
Non-Instructional: Salaries, Probationary Reports, Longevity
Zahraa Dergham
HR Generalist
827-3073
derghaz@dearbornschools.org
Employee Profiles
David Hardoin
HR Generalist
827-3069
hardoid@dearbornschools.org
DFT/ADSA/NC-NI: Teaching Certificates, Tenure Dates, Student Teaching
Inas Mouzahem
HR Generalist
827-3072
mouzahi@dearbornschools.org
AESOP Sub assignments. Hours: 7:00 AM – 3:30 PM
Kathleen Shooshanian
HR Generalist
827-3071
shooshk@dearbornschools.org
Fingerprinting, ID Badges, Substitute Profiles, Address/Phone/Name Changes
Dearborn Public Schools is an Equal Opportunity Employer
Click here to view the Dearborn Public Schools Feeder Track School
Click here to view the Dearborn Public Schools Organization Chart 2019-2020
This page will show details of your email subscriptions. To see the options available to you, click the link in any newsletter email you have received from us