We are excited to bring our fantastic Dearborn Moodle Moot 2019. What is the Moodle Moot? Dearborn's Moodle Moot will help teachers learn to leverage the awesome power of iLearn in their classroom.
Overview
The Dearborn Moodle Moot is an exciting and engaging conference for educators interested in e-learning.  Learn the skills necessary to turn YOUR classroom into a Blended Learning Classroom. We are focused on practical K-12 training that can be applied directly to your online classroom.  Develop materials for YOUR STUDENTS to use in your classroom. Collaborate with an expert.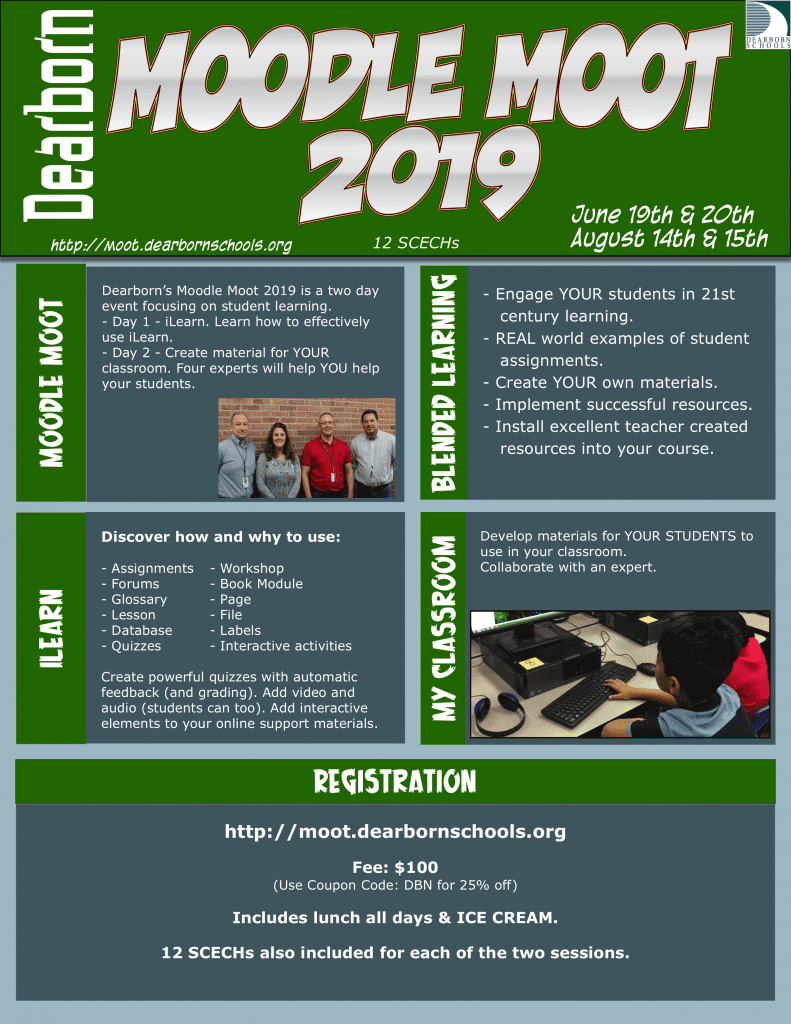 Dearborn's Moodle Moot 2019 is a two-day event focusing on student learning.
– Day 1 – iLearn. Learn how to effectively use iLearn.
– Day 2 – Create material for YOUR classroom. Four experts will help YOU help your students.
Blended Learning
Engage YOUR students in 21st-century learning.

REAL world examples of student assignments.

Create YOUR own materials.

Implement successful resources.

Install excellent teacher created resources into your course.
Learn to use:
Assignments
Workshop
Forums
Book Module
Glossary
Page
Lesson
File
Database
Labels
Quizzes
Interactive activities
Create powerful quizzes with automatic feedback (and grading). Add video and audio (students can too). Add interactive elements to your online support materials.
Discounts
We all love a discount. So, we made some available. If you are in the district, we will email a discount code for you. If you are a Wayne County teacher, email us to get a code.