Beginning today, employees have the option to take advantage of Immersive View in Zoom. This will have very limited use for classrooms at this time, see caveats.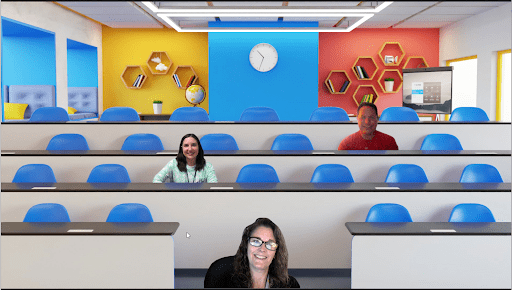 Whether you want to create the feeling of being in a classroom, a boardroom, a conference auditorium, or your favorite place to catch up with friends, Zoom's Immersive View assembles up to 25 participants in one fun, consistent meeting environment.
Caveats:
Host must start the meeting from a PC or Mac
Zoom must be updated to at least version 5.6.3
Participants on Chromebooks, Mobile Devices, and Desktops that are not updated will continue to see Gallery View or Speaker view
Limited to 25 users at most (some scenes support fewer participants)
Breakout rooms can NOT use Immersive view
Sharing a screen will cease Immersive view
Immersive view will NOT be displayed in Recordings (default back to Gallery or Speaker view)
Immerse yourself
Meeting and webinar hosts can select Zoom's Immersive View the same way they would select the Speaker or Gallery View. When enabling Immersive View, hosts will have the option to automatically or manually place participants into a virtual scene of their choosing. Hosts can also easily move participants around that scene and even resize a participant's image for a more natural experience. 
When Immersive View is enabled, those on Zoom desktop and mobile apps that do not support Immersive View will continue to see other meeting participants in either Gallery View or Speaker View, just with a simple black background. Others in the meeting will still view these unsupported participants in the Immersive View scene with their original backgrounds.