We've been working for quite a while on a special project. We are now ready to unveil that project.
We understand the struggle with signing into different places. We want to make this as easy as possible, AND as secure as possible. Those things are generally two different ends of the teeter-totter. That is, the easier something is to access, the less secure it is.
Kindergarteners face a special challenge. Since they are frequently still learning their letters and numbers, signing in to a computer securely can be a conundrum. We've developed badges to help that process out. That can get them signed into a Chromebook easily, but not iLearn.
We now have an answer.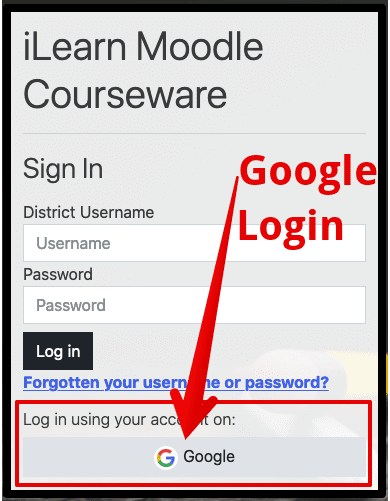 Students (and Staff) can now sign in using Google. This reduces the load for elementary students. As it turns out, this is good for everyone. We were able to accomplish this while still protecting the security of our data.
Now, IF you are signed into Google, signing into iLearn only requires a button click – no more entering a user name and password. (We have also implemented this on MyPD.)
That's right. If students are on a Chromebook, they are already signed in. So, when they click the Google button at the bottom of the login page, they will be automatically (and quickly) signed into iLearn.
This reduces the time it takes students to log into iLearn. Thus, students can even more quickly and efficient start working on Peer Editing Assignments, Recording A Reading to track their fluency, Creating their very own digital glossary to create Vocabulary Connections, Self-monitoring their spelling proficiency, and much, much more.