COVID screeners, isolation information
The district is no longer providing a separate screening tool for COVID 19. Parents, students and staff are encouraged to use our When To Keep Your Child Home document, which covers symptoms for COVID and other communicable diseases found in schools. We remind parents, that children should always be fever free for 24 hours without fever reducing medicine before coming to school. Adults and students also should not attend if they have vomited in the last 24 hours.
Quarantine requirements
Quarantining is not required in most cases of COVID exposure as long as you feel well and do not develop any symptoms. Please see the latest information from the Michigan Department of Health and Human Services regarding COVID in schools. Wearing a face mask for 10 days is encouraged for anyone with a known exposure to COVID, and masks are still required for those who are living with someone who has COVID and who are not quarantining.
Isolation requirements
If you test positive for COVID or have symptoms, stay home until at least 10 days have passed after your symptoms first appeared or date of your positive test result. Isolation can be reduced to five days at home and returning to school on day 6 if you meet ALL of the following conditions:
Fever free for 24 hours without using fever reducing medications AND
Significant improvement in symptoms or are without symptoms AND
Continue to wear a well-fitting mask through day 10.
Students and staff should continue to stay home past day 6 if they do not feel well. Student absences are automatically excused through 10 days after the start of the illness. Students, staff and visitors with COVID who are unable or unwilling to wear a face mask also must stay home through day 10.
If you are waiting for COVID test results, you should also stay home and isolate yourself away from others.
See previous records in COVID dashboard prior to August 2022
Local, county and state information
The district continues to monitor case numbers for COVID and other communicable diseases in schools. Individual classrooms, grades or possibly schools could be briefly closed if there is concern about virus spread in that location.
Social-emotional support hotline
Dearborn Public Schools is offering an emotional support hotline to assist students and families who are experiencing anxiety, fear and stress. Families reaching out to the hotline by phone or email will be contacted by a school counselor, social worker or psychologist. The hotline is 313-827-8500 or email at dss@dearbornschools.org.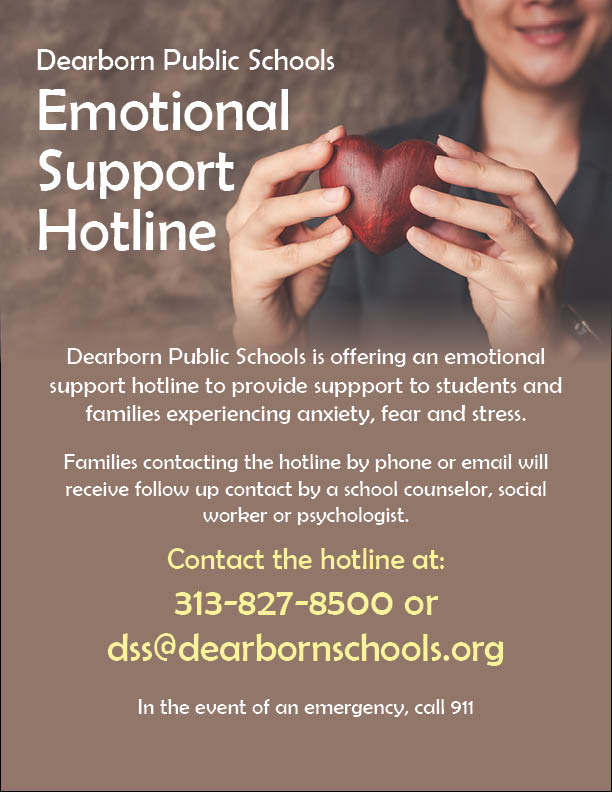 Other resources
For COVID specific questions, please contact the Wayne County Health Department at 734-287-7870 or email our Dearborn school nurses. Staff or students who have tested positive for COVID-19 need to contact their school office or supervisor. Any one who has symptoms or is considered a close contact of a confirmed COVID-19 case is strongly encouraged to get tested.
DIstrict Public Hotline for other questions and support from 8 a.m. to 4:30 p.m. Monday to Friday call 313-827-3006 or email is communications@dearbornschools.org