COVID screeners, quarantine information
Parents, staff and visitors, please use the COVID screening tools at the bottom of the page to determine if you or your child may have been exposed to COVID and should avoid visiting our buildings.  Please note, these are not the only reasons that a child should be kept home or would be sent home.  Children should always be fever free for 24 hours without fever reducing medicine before coming to school.  Adults and students also should not attend if they have vomited in the last 24 hours. See our When To Keep Your Child Home document for other common ailments.
Local, county and state information
Dearborn Public Schools has regular conversations with the Wayne County Health Department. At this time they do not recommend any school closures based on current data, but the district and health department continue to monitor local conditions.
The unofficial sources below provide constantly updated figures for local COVID trends so residents and staff can monitor positivity rates in Wayne County outside Detroit.
Social-emotional support hotline
Dearborn Public Schools is offering an emotional support hotline to assist students and families who are experiencing anxiety, fear and stress in this time of crisis. Families reaching out to the hotline by phone or email will be contacted by a school counselor, social worker or psychologist. The hotline is 313-827-8500 or email at dss@dearbornschools.org.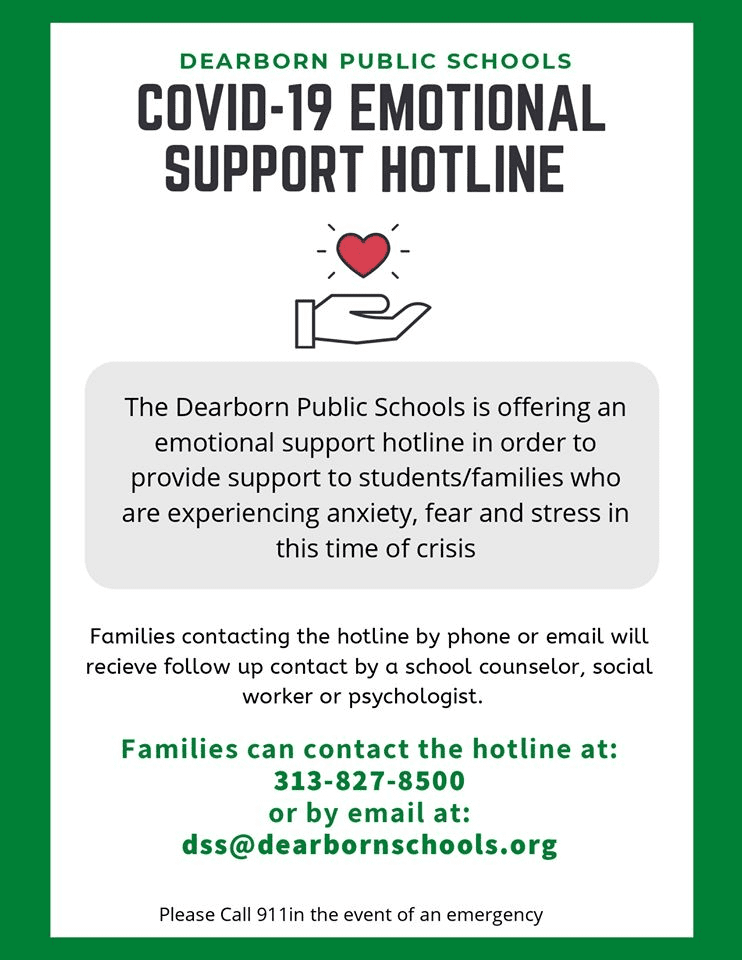 Other resources
For COVID specific questions, please contact the Wayne County Health Department at 734-287-7870 or email our Dearborn school nurses. Staff or students who have tested positive for COVID-19 need to contact their school office or supervisor. Any one who has symptoms or is considered a close contact of a confirmed COVID-19 case is strongly encouraged to get tested.
DIstrict Public Hotline for other questions and support from 8-4:30 p.m. Monday to Friday is 313-827-3006 or email is communications@dearbornschools.org
Informational Links: