Relaunching August 2021
Check this page for more information as it becomes available.  Please note, all COVID related rules and procedures are subject to change as conditions and requirements continue to evolve.  (Page updated Aug. 28, 2021)
School days
Dearborn Public Schools will reopen for the 2021-22 school year on Aug. 30 with students in school all day every day.  Please note, we have changed our starting and ending times at all grade levels.  Find the current district calendar on our Calendar page.
Masks
On Aug. 27, 2021 the Wayne County Health Department issued an order that all students, staff and visitors wear face masks inside school buildings.  The county order applies to all schools with grades preschool to 12th grade.  It will remain in effect until community transmission for Wayne County is categorized as "moderate" by the CDC for at least 14 consecutive days or until further notice by the Wayne County Health Department.  See the Michigan Safe Start Map for the current positivity rate and case rates.
Even before the county issued its order, Dearborn Public Schools had decided to require face masks indoors at all of our facilities. The district mask requirement was set to continue until at least Oct. 1 when administrators would reevaluate conditions.  School districts have the authority to require face masks in their buildings, on their grounds and at any school related activities.  Currently both the Michigan Department of Health and Human Services and the Centers for Disease Control recommend universal masking inside school buildings. 
Masks are optional outside of the buildings. Inside buildings, masks can be removed in certain circumstances such as while someone is eating or drinking.
Dearborn has required face masks inside of school buildings since September 2020.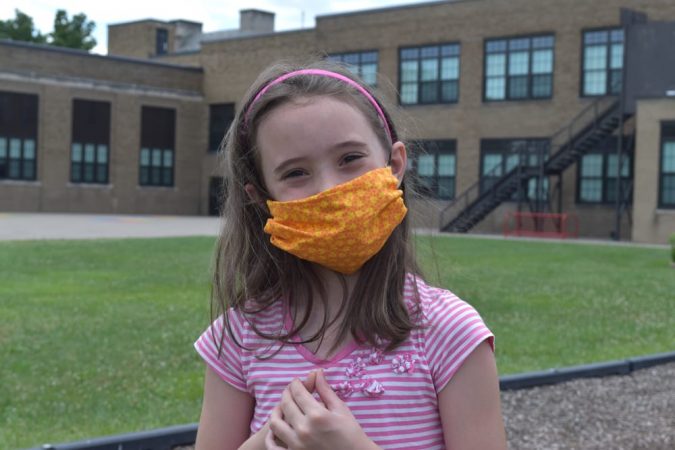 Buses
Per MIOSHA, face masks are required on school buses.  Hand sanitizer will be available as students board the bus.
Vaccines
We strongly encourage all of those eligible to receive a COVID vaccine to do so.  However, COVID vaccines are not required for students or staff at this time.
Athletics
Currently, there are no special requirements for student athletes.  Vaccinations and weekly testing are not required, although vaccinations are strongly encouraged.  We will continue to follow guidance from health officials and the Michigan High School Athletic Association.
Note, local school districts and county health departments that do require face masks will serve as the authority for their school facilities. This means that teams or individuals participating at those schools will follow any requirements set forth by the host school.
Athletic attendance
Spectators are allowed at school sporting events.  
Travel guidance
Beginning August 25th, any staff or student that is returning from international travel before returning to school in-person must be symptom free and provide a negative COVID test (PCR or rapid test) taken after he or she returned to the United States and prior to attending school. 
Drinking fountains
Drinking fountains will be available to students, with touch points disinfected frequently.  Filtered water bottle filling stations are also available in every school.
Cleaning
The district will continue to disinfect high-touch points areas at least once a day.
Social distancing
As recommended, we will strive to maintain at least three feet of distance between students in classrooms. Seating charts will be used to be able to limit and track potential exposure to viruses.  Dearborn Public Schools has some of the lowest class sizes for public schools which will help in maintaining physical distance.
Large indoor gatherings of students and staff, if any, will be limited to half of the capacity for that room, i.e. auditorium or gym, to allow for social distancing.
Screening tools
Parents are reminded to keep children home if they are ill, even for non-COVID symptoms like vomiting.  Please see our When To Keep Children Home flyer.
COVID screening forms are still available on the district website for families and staff, but parents are no longer required to screen children before they come to school each day. 
Borrowed Chromebooks
For now, students can hold onto the Chromebooks they borrowed from the district as long as they continue to be a Dearborn Public Schools student. Students may be asked to bring their district Chromebooks to school with them during online testing this fall.  Students who have graduated or are transferring out of the district are asked to return the Chromebooks.
Online learning
Only students enrolled in our new Dearborn Public Schools Virtual K-12 will be learning online only this school year. Transfers into Virtual K-12 were due by June 8.  For questions about enrolling, please contact our Student Services Department at 313-827-3005.
The district has no plans to return to online or blended learning this year where students attend in school some days and online other days.  Last year, the state implemented special rules that gave schools a lot of flexibility to provide some or all learning online without losing state funding. Currently, there are no special provisions for the 2021-22 school year.  Schools are required to provide in-school learning unless students are enrolled in approved online programs.
Ventilation
Schools will be taking steps to ensure there is adequate circulation of air in all buildings when students return. 
Air handling units have been inspected to ensure that they are running properly and that all filters are clean and in good condition. Air handling units will run throughout the day to allow a greater exchange of air in the building.  Where possible, and weather permitting, windows will be open to increase air flow. The district has also received a donation of a large number of fans that have been distributed to schools and can be used to help increase the circulation of air in the building.  The district is very fortunate to have two HVAC technicians on staff and available to inspect and maintain all air handling units throughout the district. 
Building permits
Outside groups are again allowed to request use of school buildings and facilities.  Any group must abide by the district's safety protocols in place at that time.
School meals
The district will again be providing most kindergarten to 12th grade students with the option for free lunch and breakfast at school.  Students will have assigned seating at lunch to minimize potential close contacts.  See our school menus site.
Staff daily sign in
Staff are required to complete a daily sign-in unless they have submitted their vaccination information to Human Resources. (See the Aug. 18 email.)  Daily screening/sign-in for unvaccinated staff is a MIOSHA requirement.
DISTRICT CONTACTS
General information 313-827-3006 or communications@dearbornschools.org.
Social emotional hotline 313-827-8500 or dss@dearbornschools.org
Parent and student tech support 313-827-8400 or parenthelp@dearbornschools.org
Student Services 313-827-3005
Special Education 313-827-7050
Home Learning Hub
This site is a resource for students and families during online learning.